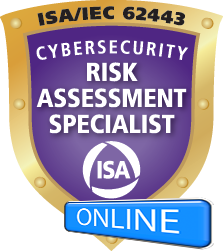 Assessing the Cybersecurity of New or Existing IACS Systems (IC33E) Online
September 28
|
€2.475
Length: 7 weeks
CEU Credits: 1.4
Course Hours: Online Course – Refer to Syllabus
Certification of Completion: A Certificate of Completion indicating the total number of CEUs earned will be provided upon successful completion of the course.
Certificate Program: Part of the ISA/IEC 62443 Cybersecurity Certificate Program
Your course registration includes your registration for the exam.
ISA's CyberU online instructor-led training courses offer the benefit of a high quality ISA training course with the added advantage of studying at your own pace in the office, at home, or while traveling.
This online course utilizes online training modules, additional text materials, online evaluations, and e-mail discussions. Students will have access via email to an instructor and an opportunity to participate in live Q&A sessions with the instructor and other class participants.
This CyberU course runs for seven (7) weeks. You will have access to six online modules for the modular sessions. Each module is between 20 to 90 minutes. Your course syllabus will guide you through the course modules and provide assignments and the schedule for the live Q&A sessions.
Description
Assessing the Cybersecurity of New or Existing IACS Systems (IC33E) is an online course which will provide students with the information and skills to assess the cybersecurity of a new or existing IACS and to develop a cybersecurity requirements specification that can be used to document the cybersecurity requirements of the project.  This course is a blended learning format which includes interactive, on-demand modules, weekly assignments and instructor call-in sessions.  Modules include instructional content, interactive reviews, video lab demonstrations conducted by an ISA Cybersecurity instructor and assessments.
You will be able to:
Discuss the need and importance for control system security
Learn about current principles and best practices
Understand the structure and content of the ISA 99 / IEC 62443 series of documents
Discuss the principles behind the creating an effective long term program security
Learn the basics of risk analysis, industrial networking and network security
Understand the concepts of defense in depth and zones and conduits
Learn how to apply key risk mitigation techniques such as anti-virus, patch management, firewalls and virtual private networks
Learn how secure software development strategies can make systems inherently more secure
Learn what is being done to validate or verify the security of systems
You will cover:
Preparing for an Assessment
Cybersecurity Vulnerability Assessment
Conducting Vulnerability Assessments
Cyber Risk Assessments
Conducting Cyber Risk Assessments
Documentation and Reporting
And more…
You will be able to:
Identify and document the scope of the IACS under assessment
Specify, gather or generate the cybersecurity information required to perform the assessment
Identify or discover cybersecurity vulnerabilities inherent in the IACS products or system design
Organize and facilitate a cybersecurity risk assessment for an IACS
Identify and evaluate realistic threat scenarios
Identify gaps in existing policies, procedures and standards
Establish and document security zones and conduits
Prepare documentation of assessment results
Lab demonstrations: (Included in modules)
Critiquing System Architecture Diagrams
Asset Inventory
Gap Assessment
Windows Vulnerability Assessment
Capturing Ethernet Traffic
Port Scanning
Windows Vulnerability Scanning
Perform a High-Level Cybersecurity Risk Assessment
Creating a Zone & Conduit Diagram
Perform a Detailed Cyber Risk Assessment
Risk Assessment Report
Who should attend:
Control systems engineers and managers
System Integrators
IT engineers and managers industrial facilities
IT corporate/security professionals
Plant Safety and Risk Management
Recommended Pre-Requisite:
ISA Course IC32, IC32E or equivalent knowledge/experience.
What is included:
On-demand modules with video lab demonstrations included

Module 1: Preparing for an Assessment (Approx. 95 minutes)
Module 2: Cybersecurity Vulnerability Assessment (Approx. 35 minutes)
Module 3: Conducting Vulnerability Assessments (Approx. 102 minutes)
Module 4: Cyber Risk Assessments (Approx. 69 minutes)
Module 5: Conducting Cyber Risk Assessments (Approx. 80 minutes)
Module 6: Documentation (Approx. 15 minutes)

A viewable version of ISA standards for course reference

ISA/IEC 62443-1-1
ISA/IEC 62443-2-1
ISA/IEC 62443-3-3
ISA/IEC 62443-2 (draft version)

ISA's Cybersecurity Assessment Challenge – a Jeopardy-style review game which can be used as a review for the certification exam (Free Add-On)
Exam registration for ISA/IEC 62443 Cybersecurity Risk Assessment Specialist
Course Note Set and Syllabus
Not sure this particular course is for you?
A pre-instructional survey is available for you to evaluate your level of understanding of the course material and to show you the types of questions you'll be able to answer after completing the course.
Cost
Cost for ISA members: € 2.075,- (non-ISA members pay € 2.475,- ; ISA membership: € 125,-).
Prices are inclusive Certificate of Completion.