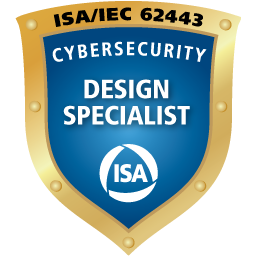 IACS Cybersecurity Design & Implementation-(IC34)
Eindhoven (NL)
December 9 @ 08:00

-

December 11 @ 13:00

|

€2.475
Length: 3 days
CEUs: 2.1
Part of the ISA/IEC 62443 Cybersecurity Certificate Program
Description:
The second phase in the IACS Cybersecurity Lifecycle (defined in ISA 62443-1-1) focuses on the activities associated with the design and implementation of IACS cybersecurity countermeasures.  This involves the selection of appropriate countermeasures based upon their security level capability and the nature of the threats and vulnerabilities identified in the Assess phase.  This phase also includes cybersecurity acceptance testing of the integrated solution, in order to validate countermeasures are properly implemented and that the IACS has achieved the target security level.
This course will provide students with the information and skills to select and implement cybersecurity countermeasures for a new or existing IACS in order to achieve the target security level assigned to each IACS zone or conduit.  Additionally, students will learn how to develop and execute test plans to verify that the cybersecurity of an IACS solution has properly satisfied the objectives in the cybersecurity requirements specification.
You will be able to:
Interpret the results of an ICS cybersecurity risk assessment
Develop a cybersecurity requirements specification (CRS)
Develop a conceptual design based upon information in a well-crafted CRS
Explain the security development lifecycle process and deliverables
Perform a basic firewall configuration and commissioning
Design a secure remote access solution
Develop system hardening specification
Implement a basic network intrusion detection system
Develop a Cybersecurity Acceptance test plan (CFAT/CSAT)
Perform a basic CFAT or CSAT
You Will Cover:
Introduction to the ICS Cybersecurity Lifecycle

Assessment phase
Implementation phase
Maintenance phase

Conceptual Design Process

Interpreting risk assessment results
Cybersecurity requirements specifications
Developing a conceptual design
Conceptual design specification

Detailed Design Process

Security Development Lifecycle (SDL)
Types of technology
Selecting appropriate technology
Developing a detailed design
Documenting the design/specification

Design & Implementation Examples

Firewall design example
Remote access design example
System hardening design example
Intrusion detection design example

Testing

Developing test plans
Cybersecurity Factory Acceptance Testing
Cybersecurity Site Acceptance Testing
Classroom/Laboratory Exercises:
Develop a Physical & Cybersecurity Plan
Configure a Perimeter Firewall
Configure an ICS Firewall
Install and use SNORT!
Configure Windows Local Group Policy Objects
Install MS Security Compliance Manager (SCM)
Conduct ICS Device Hardening
Conduct Network Device Hardening
Use a Domain Controller
Configure a VPN Connection
Conduct Security Configuration Auditing
Conduct System Robustness Testing
Who Should Attend:
Control systems engineers and managers
System Integrators
IT engineers and managers industrial facilities
Plant managers
Plant Safety and Risk Management
---
Length : 3 days
Cost for ISA members: € 2.075,- (non-ISA members pay € 2.475,- ; ISA membership: € 125,-)
Prices are inclusive Certificate of Completion, all catering and the printed ISA-99 standard with a value of about $ 1600,- , prices are exclusive VAT (The Netherlands) or VAT will be transferred (other European Countries).
Exam ISA/IEC 62443 Cyber Security Fundamentals Specialist; € 200,- excl.VAT
Duration: 1 half day
Location; Prometric Testing Center visit www.prometric.com/ISA
The ISA/IEC 62443 CyberSecurity Certificate exam is closed book – no reference material will be allowed in the exam room. A calculator will be provided for you on the computer at the testing center. You will not be able to bring any personal items into the exam room. A secure location will be provided for you to store your belongings while you take the exam, but the space is limited. Report to the testing center 30 minutes prior to your exam time to sign-in and receive testing instructions. You must bring the Prometric confirmation and identification in order to sit for your exam.
The exam is only available electronically through a Prometric testing center. To view the locations that are available in the Prometric network for ISA/IEC 62443 CyberSecurity certificate exams, visit www.prometric.com/ISA.You may reschedule your exam only once with no penalty, but you must do so 2 days (48 hours) prior to the exam date in the US and Canada, or 5 days (120 hours) prior to the exam date in all other Prometric locations. A € 150,- reschedule fee will apply if you do not cancel your appointment in advance. You must complete all testing within the eligibility period, or you will have to complete the course again in order to pursue the certificate.
When successfully passing the exam, you will receive the ISA/IEC 62443 Cyber Security Fundamentals Specialist certificate. The certificate will be treated as actual for a period of 3 years. After this, you need to retake the exam to extend your certificate.
This courses is taught entirely in English.
Deze cursus wordt volledig in het Engels gegeven.
Dieser Kurs wird vollständig auf Englisch unterrichtet.
Ce cours est enseigné entièrement en anglais.
Este curso se imparte íntegramente en inglés.
If you wish to register offline, download the Training Registration Form here. If you wish to register online, click on the button below.