Full Course: Assessing the Cybersecurity of New or Existing IACS Systems (IC33M)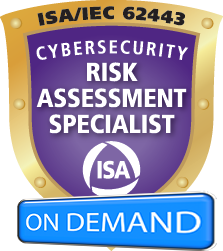 Description:
Assessing the Cybersecurity of New or Existing IACS Systems (IC33M) is an on-demand course which will provide students with the information and skills to assess the cybersecurity of a new or existing IACS and to develop a cybersecurity requirements specification that can be used to document the cybersecurity requirements of the project. This course is delivered in an interactive, modular format. Modules include instructional content, interactive reviews, video lab demonstrations conducted by an ISA Cybersecurity instructor and assessments.
Certificate Program: ISA/IEC 62443 Cybersecurity Design Specialist – Part of the ISA/IEC 62443 Cybersecurity Certificate Program. After successfully completing the course, students should call ISA Customer Service at 919-549-8411 to request their Eligibility code for Cybersecurity Certificate 3 Exam. Once this code is issued, students may schedule to take the exam with Prometrics
Certification of Completion: A Certificate of Completion indicating the total number of CEUs earned will be provided upon successful completion of the course.
YOU WILL COVER:
Preparing for an Assessment
Cybersecurity Vulnerability Assessment
Conducting Vulnerability Assessments
Cyber Risk Assessments
Conducting Cyber Risk Assessments
Documentation and Reporting
And more…
YOU WILL BE ABLE TO:
Identify and document the scope of the IACS under assessment
Specify, gather or generate the cybersecurity information required to perform the assessment
Identify or discover cybersecurity vulnerabilities inherent in the IACS products or system design
Organize and facilitate a cybersecurity risk assessment for an IACS
Identify and evaluate realistic threat scenarios
Identify gaps in existing policies, procedures and standards
Establish and document security zones and conduits
Prepare documentation of assessment results
LAB DEMONSTRATIONS: (Included in modules)
Critiquing System Architecture Diagrams
Asset Inventory
Gap Assessment
Windows Vulnerability Assessment
Capturing Ethernet Traffic
Port Scanning
Windows Vulnerability Scanning
Perform a High-Level Cybersecurity Risk Assessment
Creating a Zone & Conduit Diagram
Perform a Detailed Cyber Risk Assessment
Risk Assessment Report
WHO SHOULD ATTEND:
Control systems engineers and managers
System Integrators
IT engineers and managers industrial facilities
IT corporate/security professionals
Plant Safety and Risk Management
WHAT IS INCLUDED:
On-demand modules with video lab demonstrations included

Module 1: Preparing for an Assessment (Approx. 95 minutes)
Module 2: Cybersecurity Vulnerability Assessment (Approx. 35 minutes)
Module 3: Conducting Vulnerability Assessments (Approx. 102 minutes)
Module 4: Cyber Risk Assessments (Approx. 69 minutes)
Module 5: Conducting Cyber Risk Assessments (Approx. 80 minutes)
Module 6: Documentation (Approx. 15 minutes)

A viewable version of ISA standards for course reference

ISA/IEC 62443-1-1
ISA/IEC 62443-2-1
ISA/IEC 62443-3-3
ISA/IEC 62443-2 (draft version)

ISA's Cybersecurity Assessment Challenge – a Jeopardy-style review game which can be used as a review for the certification exam (Free Add-On)
Exam registration for ISA/IEC 62443 Cybersecurity Risk Assessment Specialist
IC33M Note Set
Access to materials for up to one year.