IACS Cybersecurity Design & Implementation
Full Course Bundle (IC34M)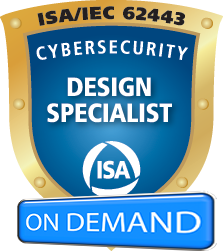 Description:
The second phase in the IACS Cybersecurity Lifecycle (defined in ISA 62443-1-1) focuses on the activities associated with the design and implementation of IACS cybersecurity countermeasures. This involves the selection of appropriate countermeasures based upon their security level capability and the nature of the threats and vulnerabilities identified in the Assess phase. This phase also includes cybersecurity acceptance testing of the integrated solution, in order to validate countermeasures are properly implemented and that the IACS has achieved the target security level.
This course will provide students with the information and skills to select and implement cybersecurity countermeasures for a new or existing IACS in order to achieve the target security level assigned to each IACS zone or conduit. Additionally, students will learn how to develop and execute test plans to verify that the cybersecurity of an IACS solution has properly satisfied the objectives in the cybersecurity requirements specification.
Certificate Program: ISA/IEC 62443 Cybersecurity Design Specialist – Part of the ISA/IEC 62443 Cybersecurity Certificate Program. After successfully completing the course, students should call ISA Customer Service at 919-549-8411 to request their Eligibility code for Cybersecurity Certificate 3 Exam. Once this code is issued, students may schedule to take the exam with Prometrics
Certification of Completion: A Certificate of Completion indicating the total number of CEUs earned will be provided upon successful completion of the course.
YOU WILL COVER:
Review the ICS Cybersecurity Lifecycle
Conceptual Design Process
Detailed Design Process
Design & Implementation Examples
Testing
YOU WILL BE ABLE TO:
Define the scope of a cyber security risk assessment
Identify four types of cyber security vulnerability assessments
Read cyber risk assessment process flow charts
Explain why documentation is important for all assessment findings
Define Cyber Risk Reduction Factor (CRRF)
Identify ways to manage risk in an IACS
Explain ways to treat risk in an IACS
Explain key elements in developing a security strategy
Develop a cybersecurity plan
Discuss aspects of Project Management relevant to Design
Identify steps in the System/Software Development Lifecycle model
Define the Functional & Security Requirements necessary for Design
Choose the appropriate technology for Design
Develop a Detailed Security Design for an IACS
Create a design specification document
Explain the purpose of a firewall
Identify classes of firewalls
Explain the importance and limits of Firewalls in Device Decision Basis
Identify need for Firewall in different Architectures
Establish a plan for Firewall installation & configuration
Describe System Hardening
Describe Security Compliance Manager
Explain Center for Internet Security (CIS) Benchmarks
Explain how the Enhanced Mitigation Experience Toolkit (EMET) protects Windows systems
Explain how IACS Devices can be hardened
Identify Network Device hardening best practices
Define Access Control
Identify Access Control Best Practices
Define Remote Access
Identify Remote Access Best Practices
Explain Virtual Private Networks (VPNs)
Configure a VPN Connection
Explain the need for Cybersecurity System Acceptance Testing
Identify the two main objectives of Cybersecurity Acceptance Testing
Identify Cybersecurity Acceptance Testing Best Practices
Recognize Popular Security Configuration Auditing Tools
Describe an Intrusion Detection System (IDS)
Explain the purpose of a Network Intrusion Detection System
Explain the purpose of a Host Intrusion Detection System
Identify the two main detection methods of IDS
Identify the differences between Network and Host Intrusion Detection Systems
WHO SHOULD ATTEND:
Control systems engineers and managers
System Integrators
IT engineers and managers industrial facilities
Plant managers
Plant Safety and Risk Management
WHAT IS INCLUDED:
On-demand modules with video lab demonstrations included

Module 1: Assessment Overview
Module 2: Conceptual Design
Module 3: Detailed Design
Module 4: Firewalls
Module 5: Intrusion Detection Systems
Module 6: System Hardening
Module 7: Access Control
Module 8: Cybersecurity Acceptance Testing

A viewable version of ISA standards for course reference

ISA/IEC 62443-1-1
ISA/IEC 62443-2-1
ISA/IEC 62443-3-3
ISA/IEC 62443-2 (draft version)

Exam ($200 value) for ISA/IEC 62443 Cybersecurity Design Specialist
Course Note Set