Using the ISA/IEC 62443 Standards to Secure Your Control Systems (IC32)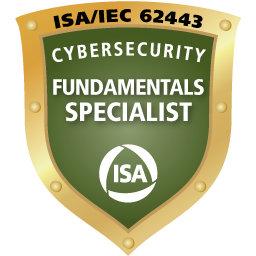 Description:
The move to using open standards such as Ethernet, TCP/IP, and web technologies in supervisory control and data acquisition (SCADA) and process control networks has begun to expose these systems to the same cyberattacks that have wreaked so much havoc on corporate information systems. This course provides a detailed look at how the ANSI/ISA99 standards can be used to protect your critical control systems. It also explores the procedural and technical differences between the security for traditional IT environments and those solutions appropriate for SCADA or plant floor environments.
The ISA/IEC 62443 CyberSecurity Certificate exam is closed book – no reference material will be allowed in the exam room. A calculator will be provided for you on the computer at the testing center. You will not be able to bring any personal items into the exam room. A secure location will be provided for you to store your belongings while you take the exam, but the space is limited. Report to the testing center 30 minutes prior to your exam time to sign-in and receive testing instructions. You must bring the Prometric confirmation and identification in order to sit for your exam.
The exam is only available electronically through a Prometric testing center. To view the locations that are available in the Prometric network for ISA/IEC 62443 CyberSecurity certificate exams, visit www.prometric.com/ISA.You may reschedule your exam only once with no penalty, but you must do so 2 days (48 hours) prior to the exam date in the US and Canada, or 5 days (120 hours) prior to the exam date in all other Prometric locations. A € 150,- reschedule fee will apply if you do not cancel your appointment in advance. You must complete all testing within the eligibility period, or you will have to complete the course again in order to pursue the certificate.
When successfully passing the exam, you will receive the ISA/IEC 62443 Cyber Security Fundamentals Specialist certificate. The certificate will be treated as actual for a period of 3 years. After this, you need to retake the exam to extend your certificate.
You will be able to:
Discuss the principles behind creating an effective long term program security
Interpret  the ANSI/ISA99 industrial security guidelines and apply them to your operation
Define the basics of risk and vulnerability analysis methodologies
Describe the principles of security policy development
Explain the concepts of defense in depth and zone/conduit models of security
Analyze the current trends in industrial security incidents and methods hackers use to attack a system
Define the principles behind the key risk mitigation techniques, including anti-virus and patch management, firewalls, and virtual private networks
You will cover / What is included:
Understanding the Current Industrial Security Environment:What is Electronic Security for Industrial Automation and Control Systems? | How IT and the Plant Floor are Different and How They are the Same
How Cyberattacks Happen:Understanding the Threat Sources | The Steps to Successful Cyberattacks
Creating A Security Program:  Critical Factors for Success/Understanding the ANSI/ISA-62443-2-1 (ANSI/ISA-99.02.01-2009)- Security for Industrial Automation and Control Systems: Establishing an Industrial Automation and Control Systems Security Program
Risk Analysis:  Business Rationale | Risk Identification, Classification, and Assessment | The DNSAM Methodology
Addressing Risk with Security Policy, Organization, and Awareness:CSMS Scope | Organizational Security | Staff Training and Security Awareness
Addressing Risk with Selected Security Counter Measures:Personnel Security | Physical and Environmental Security | Network Segmentation | Access Control
Addressing Risk with Implementation Measures:Risk Management and Implementation | System Development and Maintenance | Information and Document Management
Monitoring and Improving the CSMS:Compliance and Review | Improve and Maintain the CSMS
Classroom /Laboratory exercises:
Basic Network Techniques
Network discovery and deep network scanning
Investigate scanning and protocol analysis tool
Apply basic security analysis tools software
Includes ISA Standards:
ANSI/ISA-62443-1-1 (ANSI/ISA-99.00.01-2007), Security for Industrial Automation and Control Systems Part 1: Terminology, Concepts & Models
ANSI/ISA-62443-2-1 (ANSI/ISA-99.02.01-2009), Security for Industrial Automation and Control Systems: Establishing an Industrial Automation and Control Systems Security Program
ANSI/ISA-62443-3-3, Security for industrial automation and control systems: System security requirements and security levels
Not sure this particular course is for you?
A pre-instructional survey is available for you to evaluate your level of understanding of the course material and to show you the types of questions you'll be able to answer after completing the course.
Onsite
This course can be brought to your location. The expert instruction and training materials come to your facility. All you have to do is pick the time and place – we do the rest!
For more information on ISA's Onsite Training, or for a comprehensive needs analysis, please e-mail us.
For a confidential price estimate on bringing an ISA Europe course to your location, simply complete and submit the Onsite Training Quotation Form.
Courses are taught in English, Dutch, German, French or Spanish. See the specific training to see in which language the course is taught.
Cursussen worden gegeven in het Engels, Nederlands, Duits, Frans of Spaans. Zie de specifieke training om te zien in welke taal de cursus wordt gegeven.
Die Kurse werden in Englisch, Niederländisch, Deutsch, Französisch oder Spanisch angeboten. Auf der jeweiligen Schulungsseite erfahren Sie, in welcher Sprache der Kurs unterrichtet wird.
Los cursos se imparten en inglés, holandés, alemán, francés o español. Consulte la capacitación específica para ver en qué idioma se imparte el curso.
Les cours sont dispensés en anglais, néerlandais, allemand, français ou espagnol. Voir la formation spécifique pour voir dans quelle langue le cours est enseigné.