ISA's representative in Europe, the Middle East & Africa
The International Society of Automation (www.isa.org) is a nonprofit professional association that sets the standard for those who apply engineering and technology to improve the management, safety, and cybersecurity of modern automation and control systems used across industry and critical infrastructure.
Founded in 1945, ISA develops widely used global standards; certifies industry professionals; provides education and training; publishes books and technical articles; hosts conferences and exhibits; and provides networking and career development programs for its 40,000 members and 400,000 customers around the world.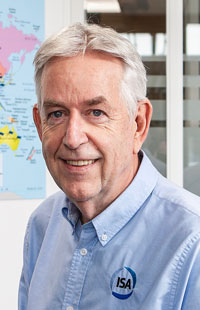 Mr. Pieter H.W. van der Klooster –Director International Business Development
ISA in EMEA
Through a wholly owned subsidiary ISA wants to expand and contain her presence in EMEA. ISA's office is located in the Netherlands. This office is managed by Mr. Pieter van der Klooster. The focus of this office is to organize workshops, events, open enrollment- and in company training courses.
ISA European office is a Knowledge Center for ISA-18, ISA-88, ISA-95 and ISA/IEC62443 and hosts many websites like; www.isa-88.com, www.isa-95.com and www.cybersecurity-expert.com
For more info about ISA send an email to info@isaeurope.org
Contact ISA in EMEA
ISA, European Office
info@isaeurope.org
Luchthavenweg 54
5657 EB Eindhoven
The Netherlands
+31 6 33 609 357
Chambre de Commerce (KvK) 17261871