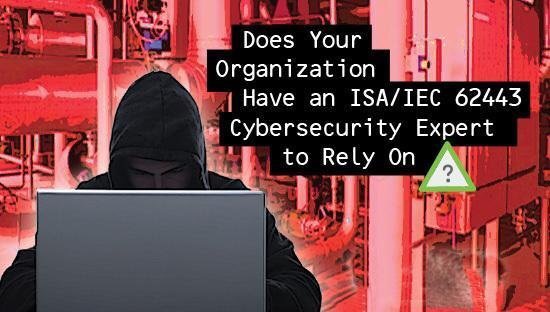 Due to the Covid-19 Virus it is not possible
to take exams at several Prometric locations.
Exams codes will be extended with 3 months after Covid-19
(when your code is expired).
We have an option for you to take the exam and be monitored by a proctor remotely, in real time, via the internet.
For more details on this testing option see ProProctor
or sent an email to info@isaeurope.org.
Certificate 1: ISA/IEC 62443 Cybersecurity Fundamentals Specialist
Certificate 2: ISA/IEC 62443 Cybersecurity Risk Assessment Specialist
Certificate 3: ISA/IEC 62443 Cybersecurity Design Specialist
Certificate 4: ISA/IEC 62443 Cybersecurity Maintenance Specialist
ISA/IEC 62443 Cybersecurity Expert: Individuals who achieve Certificates 1, 2, 3, and 4 are designed as ISA/IEC 62443 Cybersecurity Experts.

As part of ISA's continued efforts to meet the growing need of industrial control systems professionals and to expand its global leader outreach into the security realm, ISA has developed a knowledge-based certificate recognition program designed to increase awareness of the ISA/IEC 62443 (ISA-99) standard. This new ISA/IEC 62443 Cybersecurity Fundamentals Specialist certificate program is designed for professionals involved in IT and control system security roles that need to develop a command of industrial cybersecurity terminology and understanding of the material embedded in the ISA/IEC 62443 (ISA-99) standards.
ISA/IEC 62443 Cybersecurity certificates are awarded to those who successfully complete a designated training program and pass a multiple choice exam offered through the Prometric testing centers. You can register to take the training course only and receive continuing education units (CEUs) for completion of the training course, or you can register for the certificate program which includes the exam. Payment for the exam is separate from course fee.
All certificate program exams are administered electronically through Prometric testing centers. Please visit www.prometric.com/isa to determine what locations are close to you. Certificate program applicants must successfully complete the required course prior to taking the certificate exam.
We also have an option for you to take the exams from your home. For more details on this testing option see Online Proctoring for ISA Exams